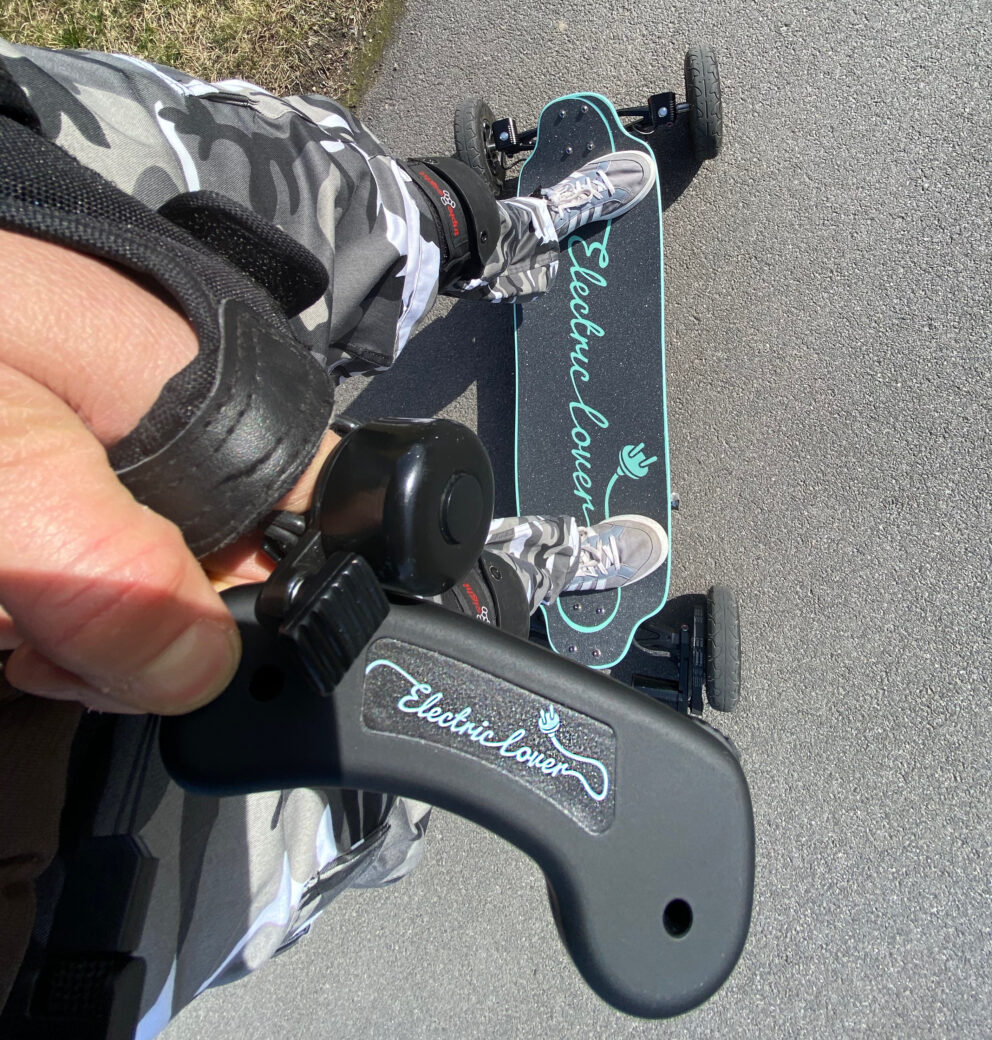 Do you want a unique design on your skateboard? We did two electric skateboards from Lacroix, but the process is basically the same for regular skateboards.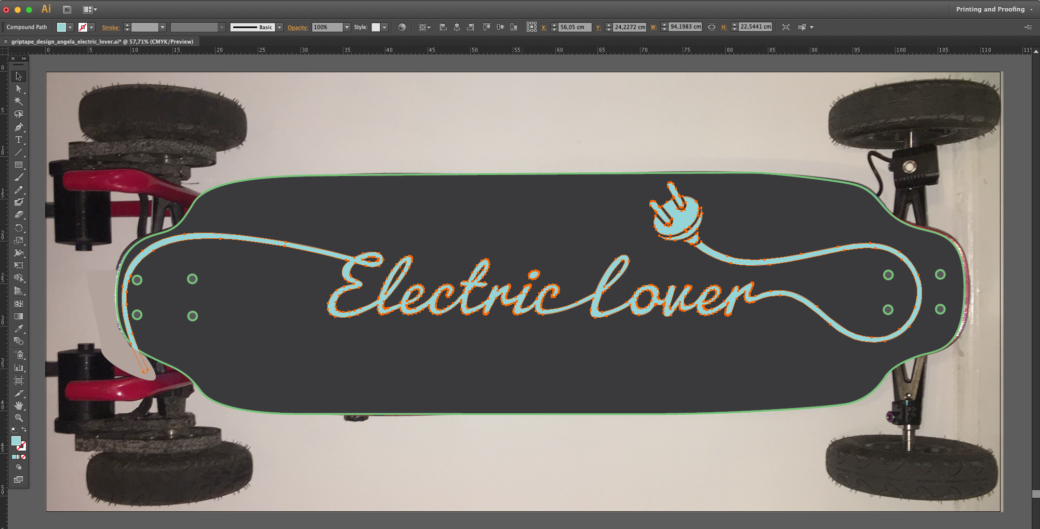 We started by digitally designing our motifs, but we might as well have drawn it with pen and paper. However, a digital file makes it easier to adjust the size and fit it perfectly to the board. Designs that are interconnected and do not have so many loose small parts (for example, the hole in a lower case "e") are easier to assemble. If possible, it is also smart not to put fine details exactly where the feet will most often stand and wear on the design. Also place the most important elements of the design at a safe distance from the edges of the board and leave an inch out. So, expect the design to not end up exactly where you planned and make sure there is some extra griptape at the edges to cut away. Our Lacroix template worked for us but it is not totally perfect. Again, make the design slightly larger and crop later.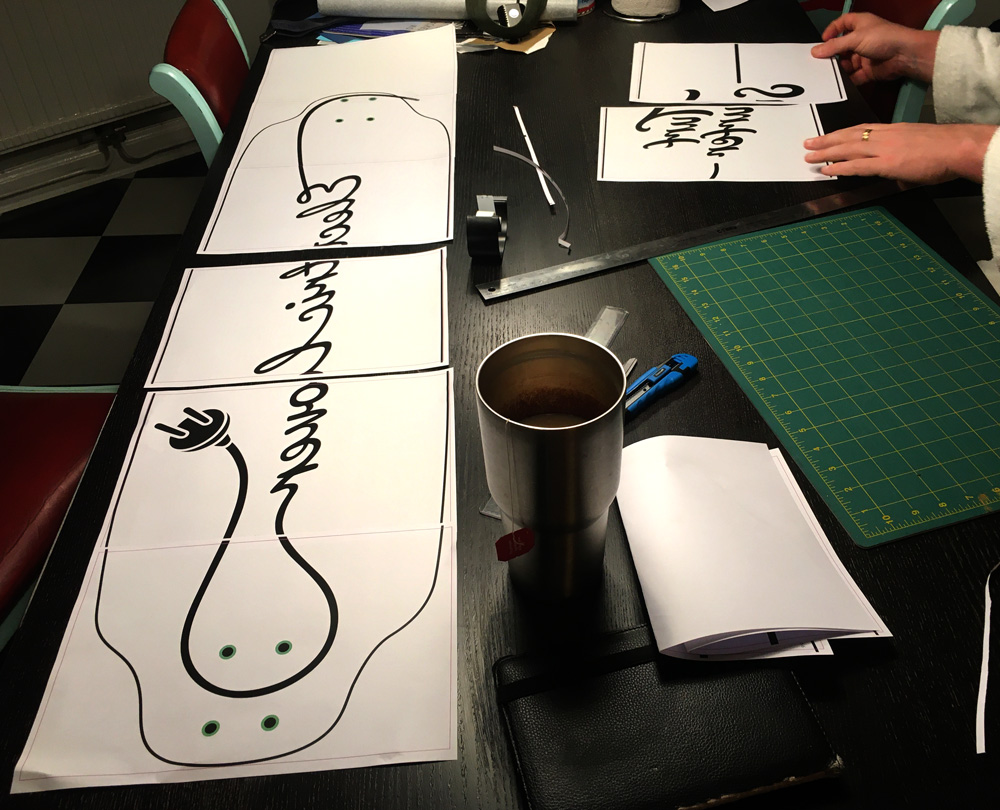 We printed our motifs mirrored on several A4 sheets and taped them together.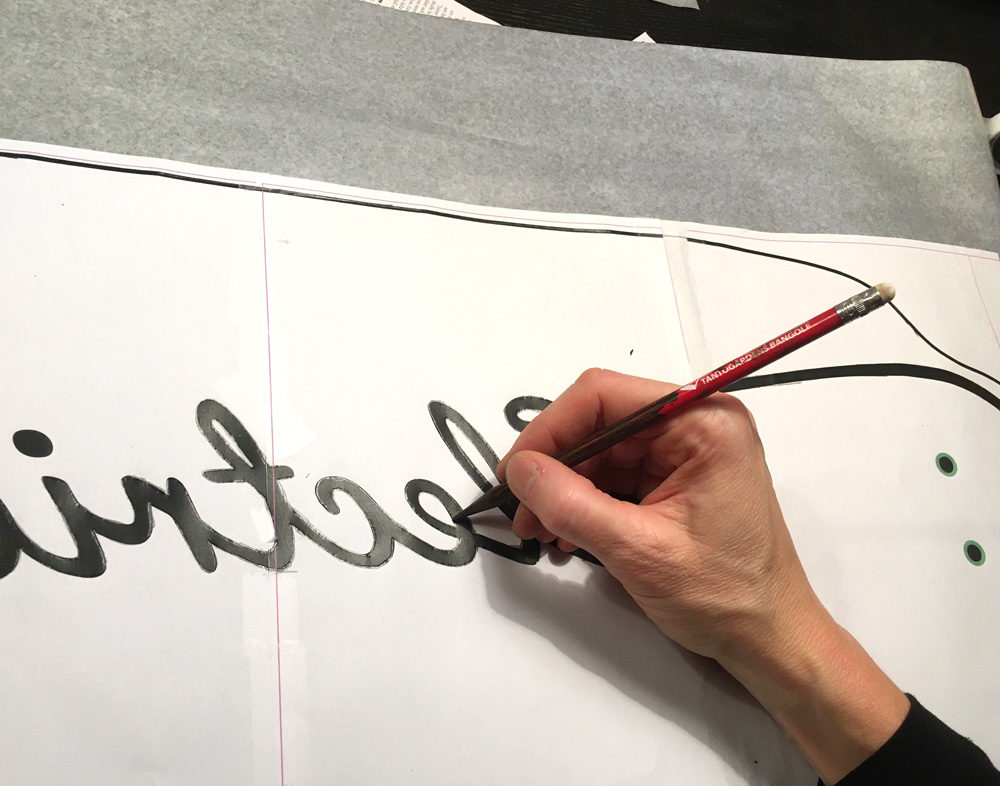 Then we transferred our design to our grip tape using tracing paper and a dull and soft pencil.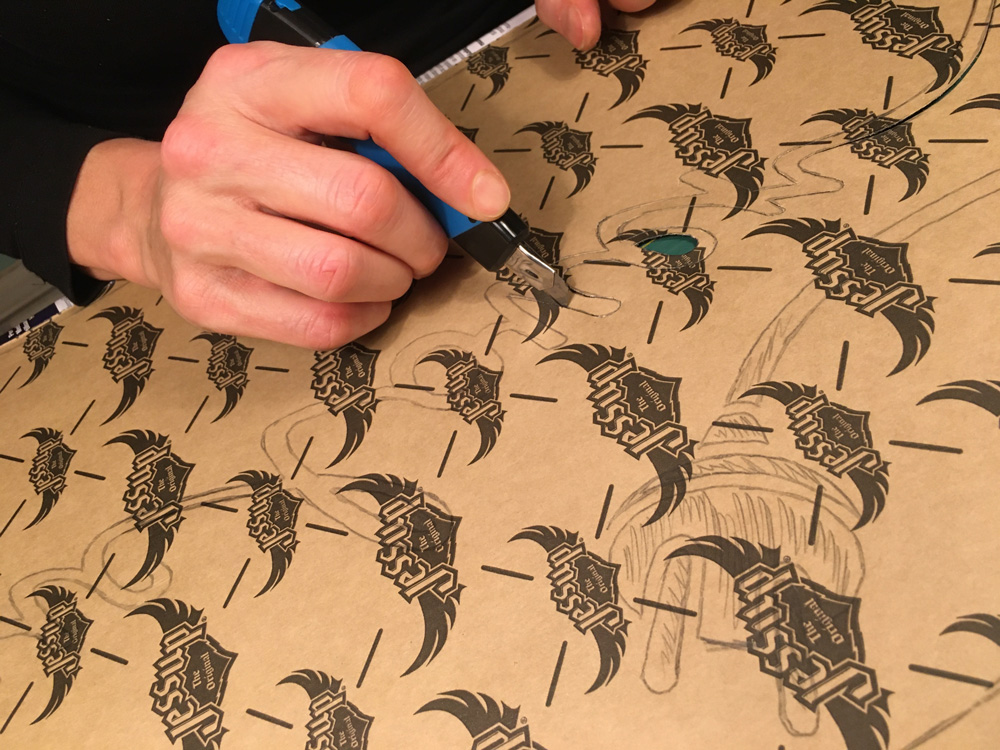 The motif was then cut with an X-Acto scalpel. It is easier to use new and sharp razor blades – especially for round shapes. A rubber mat as a base is optimal.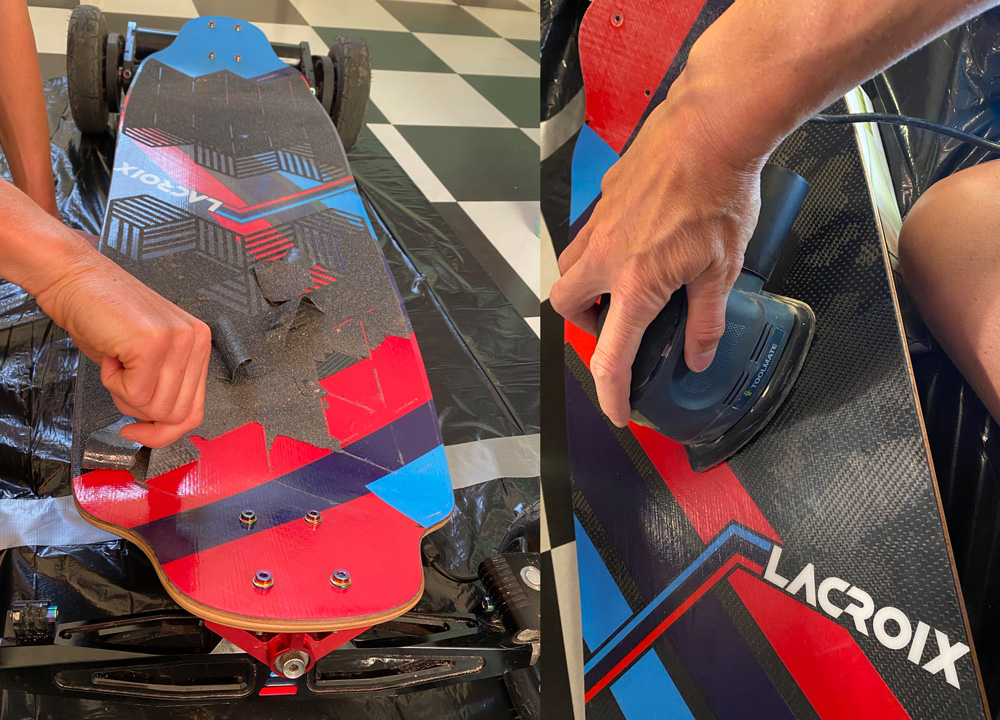 The existing griptape was removed. Old griptape may be easier to remove with some heat from a hair dryer or heat gun. The surface was then sanded with fine sandpaper.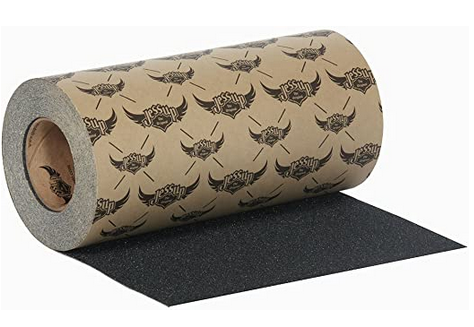 We used Jessup griptape. We really like it. The extra coarse is good on electric skateboards as you don't do any aerial tricks anyway. The stickiness of Jessup is also good.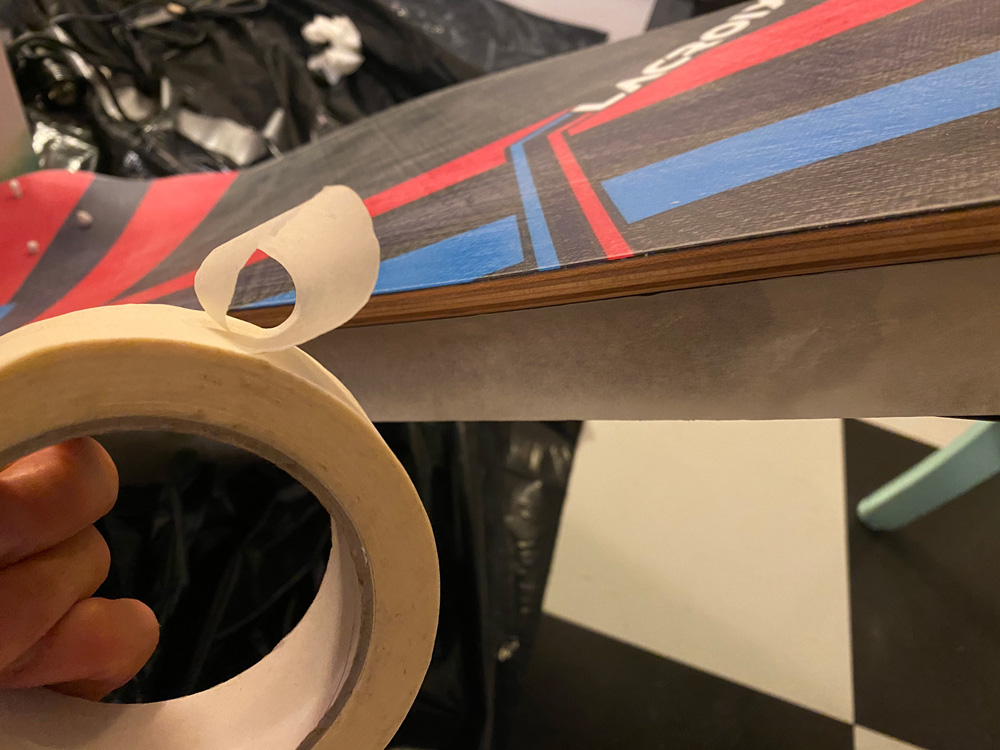 Masking tape was then applied to the edges. We used garbage bags to protect the rest of the board.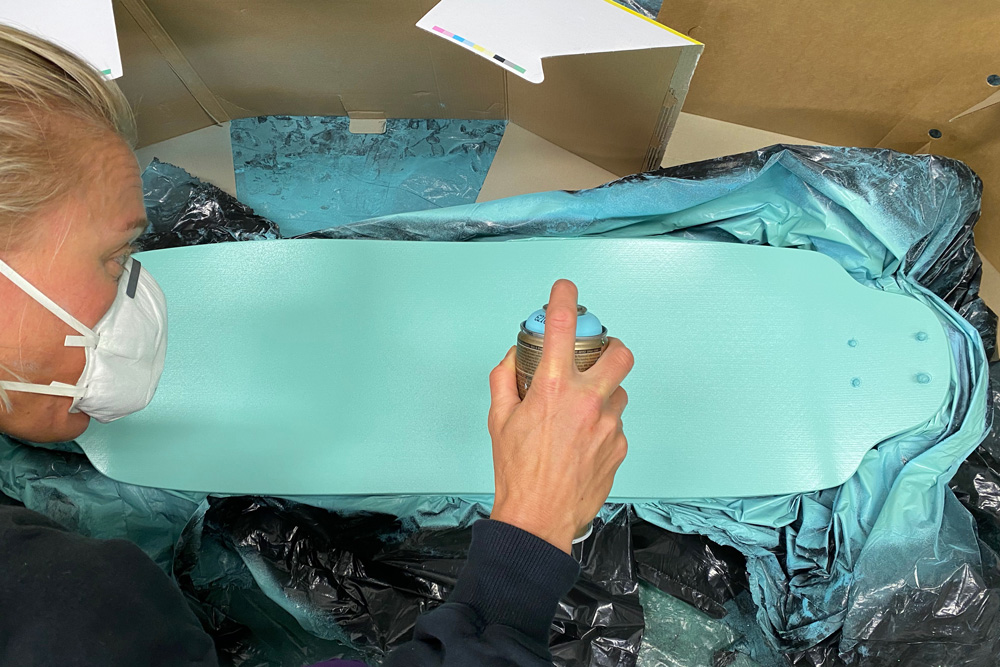 Spray paint from Montana Gold was applied in several thin layers. Bubbles were avoided by spraying thin and not too close. We finished with a coat of clear varnish.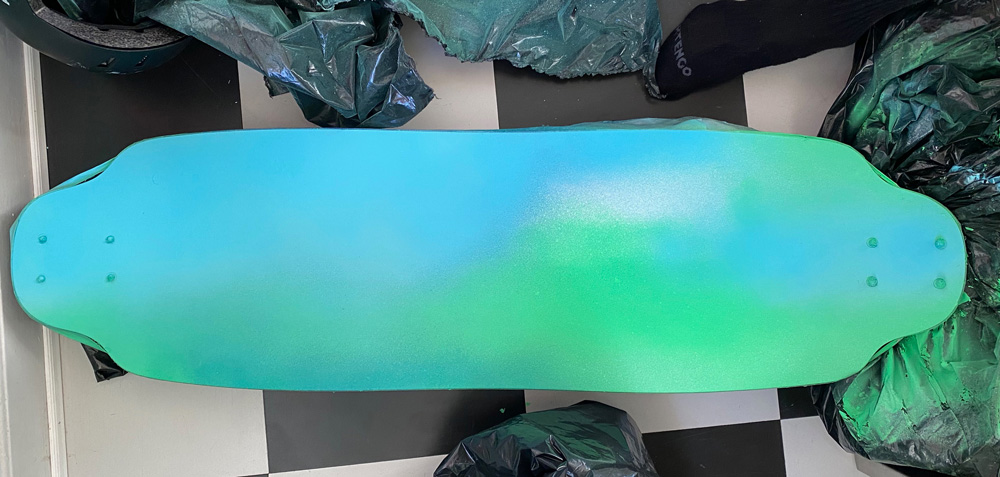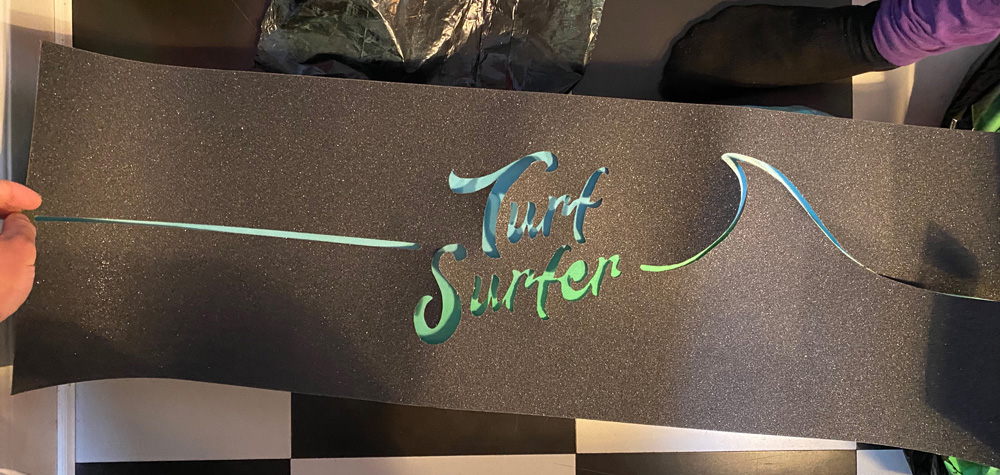 Daniel created a melange motif with several different colors to create an extra surfy feeling.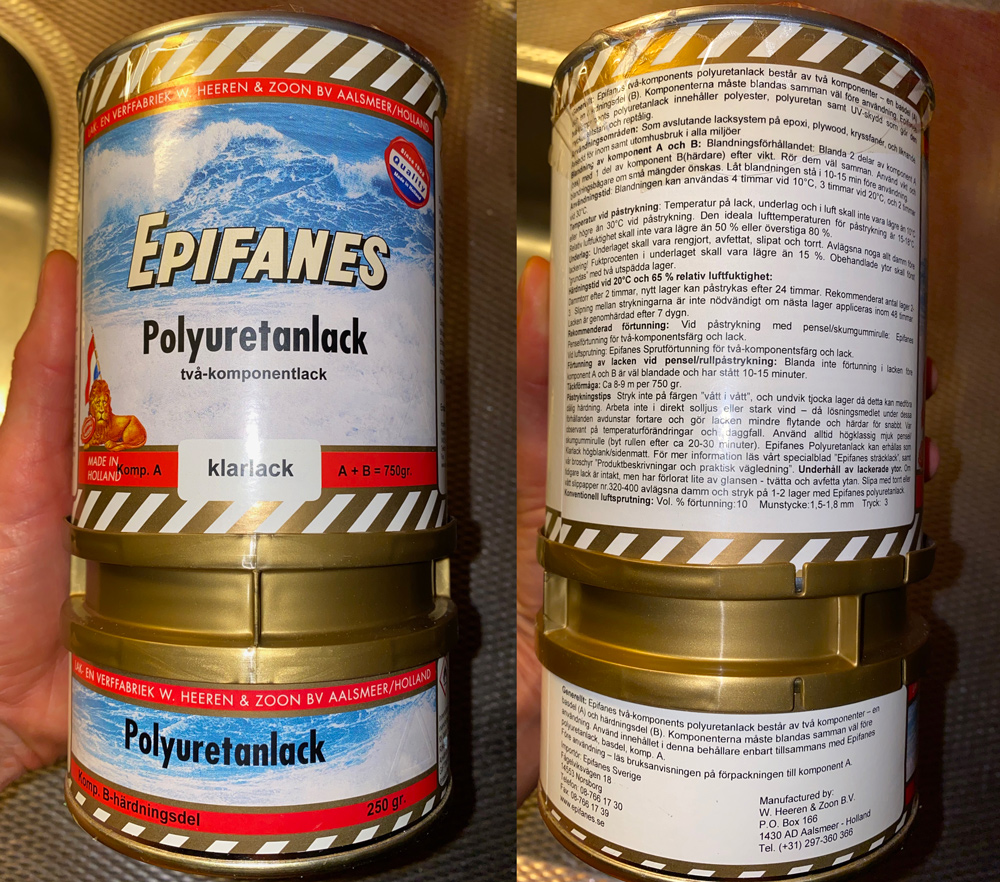 Polyurethane coating is among the most important steps in order to get a design that will last for the hard wear that the board must endure. For example, polyurethane varnish is often used for boats.
Working with polyurethane varnish is life-threatening, so you should preferably do it outdoors. It was cold and practically impossible for us to work outdoors. Instead, we opened windows and taped the door to the room shut while we applied 4 layers of varnish. You shouldn't do that, kids. But at least we felt a bit like Pinkman and Heisenberg and nobody got a headache or became worse of a maniac than we already are! Each layer should dry 24 hours before applying the next layer. Double layer nitrile gloves worked well. You do NOT want to get polyurethane on the skin because it is absorbed and it is cancerous.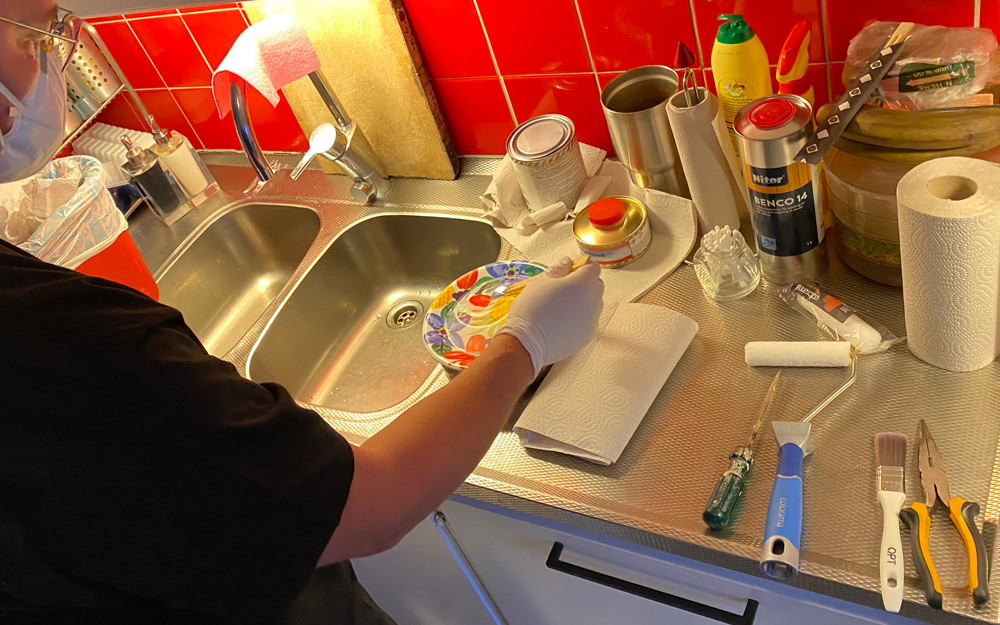 We followed the instructions for the polyurethane exactly. A food scale was used to mix exactly the right amount of the two components on a dish.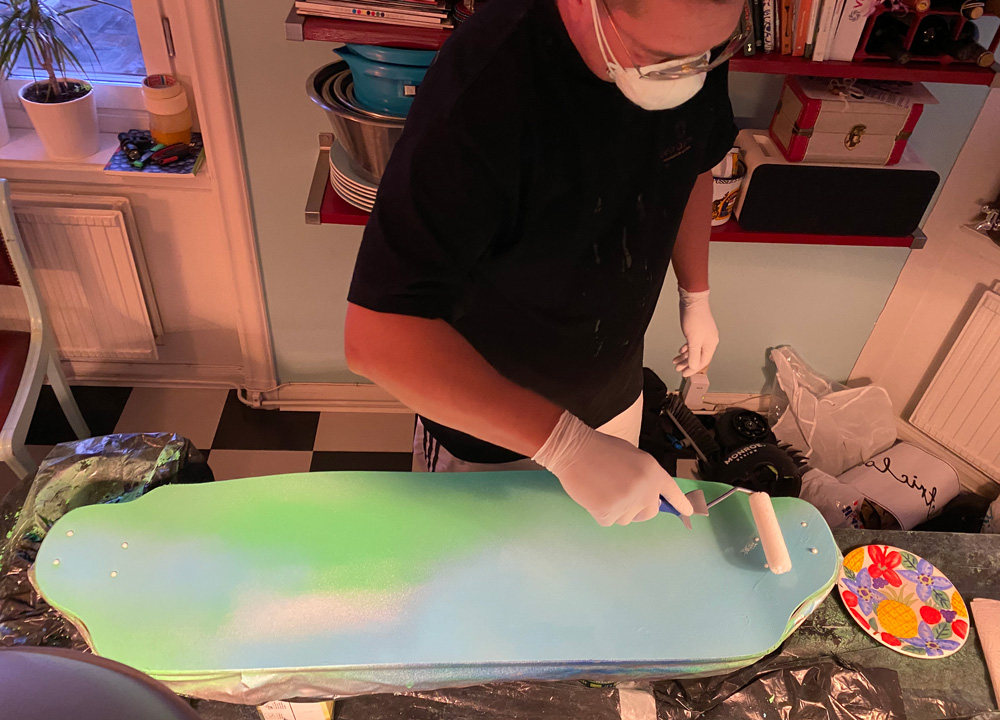 The screw holes were protected with Topz. A fine roller with the smallest structure was used for application. We used a new roller for each layer. 3 layers should suffice but we wanted to be extra safe and did 4. Thin and even is the goal.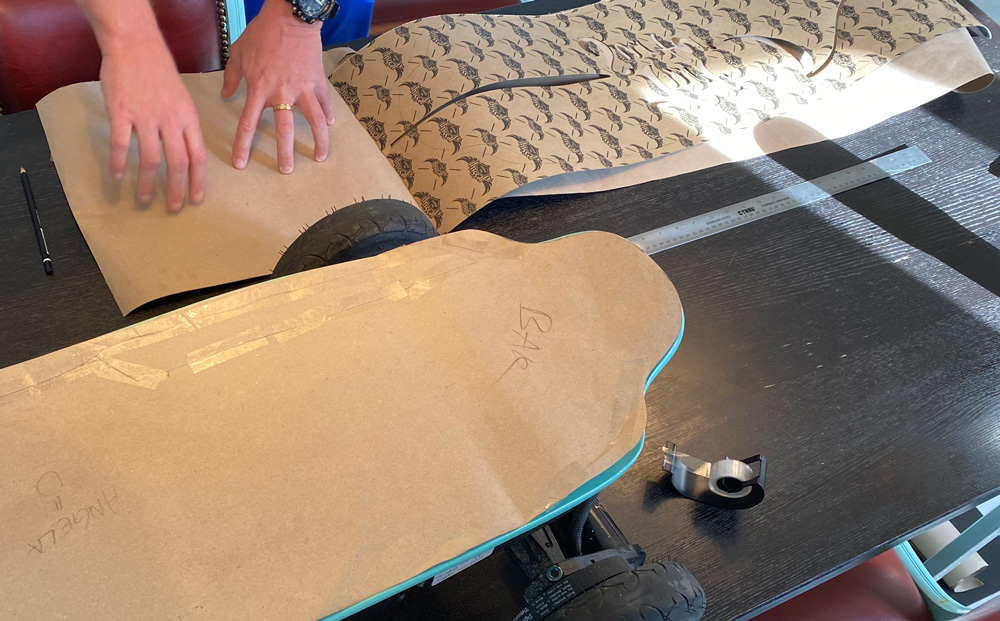 It is neat and practical not to let the grip tape go all the way to the edge of the board, where it is worn excessively and risks flaring up. We cut out a template of the board and marked it 0.3 inch in. Then we cut these 0.3 inch and drew the template on the griptape.

It pays off to double check everything before you cut the griptape. These details determine how professional it will look.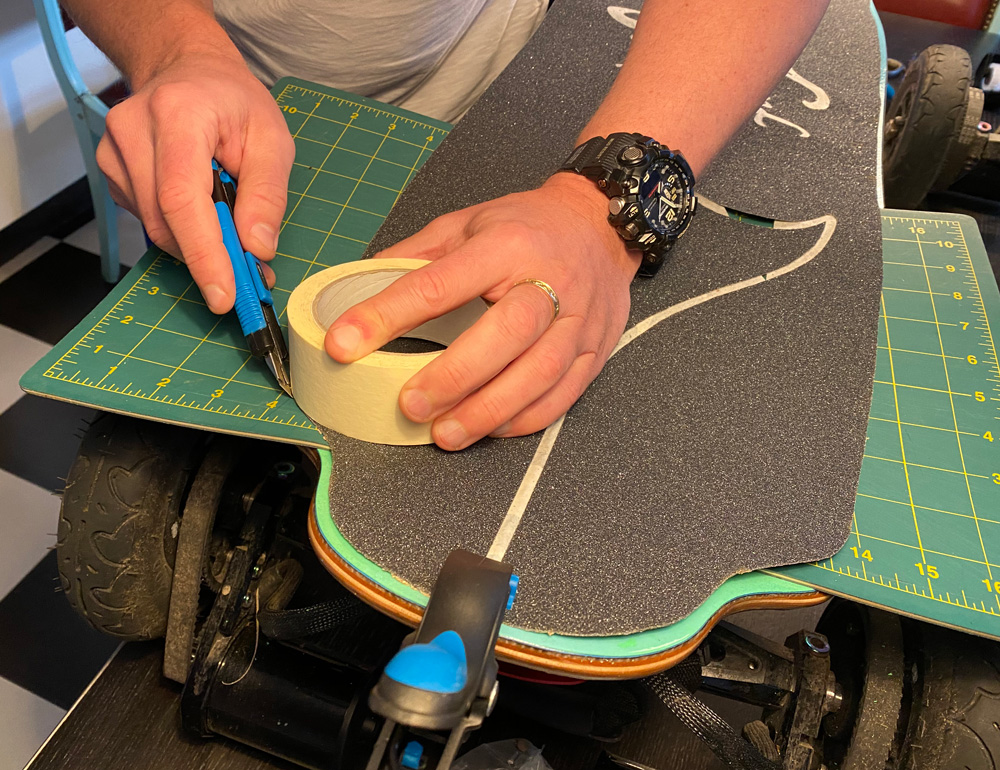 It is super difficult to apply the grip tape straight. 4 hands are needed. If you are off every so little on one short side where you start, that will grow to a lot bigger problem once you reach the other short side. The smartest thing is maybe(?) to mount it on one long side first. We suspected that our designs could get messed up that way, so we started on a short side. Just peel off a small part of the protective film at a time. In the beginning, you can gently pull off the applied tape and start over, but it is risky business. If you pull too hard it can break. We applied half the board and fine-tuned the edges towards the end as shown in the picture above.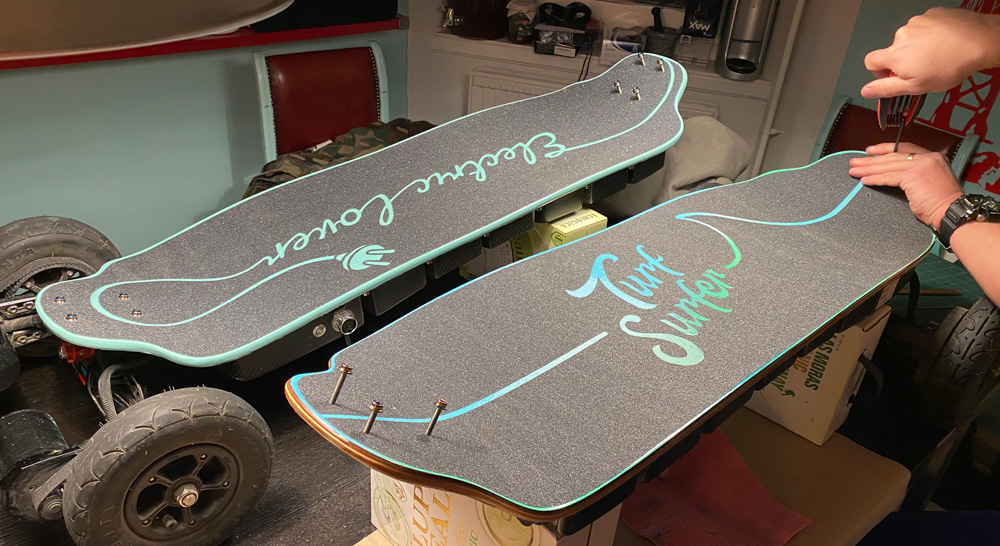 Topz were then removed and the truck screws were put back.
We also pimped our Flipsky remote controls so we know which one belongs to who. Thanx Infront Graphic Solution for our great printed stickers!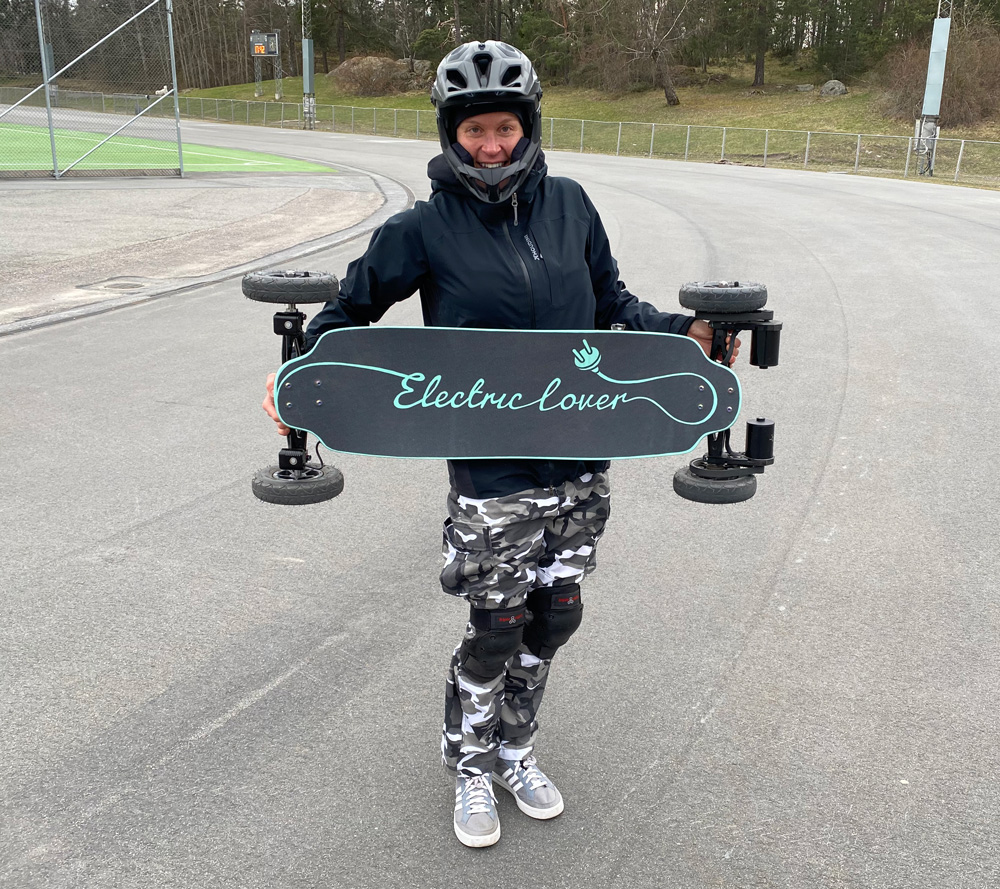 Happy esk8 nerd! By the way, I am the world's first female owner of a Lacroix Nazaré.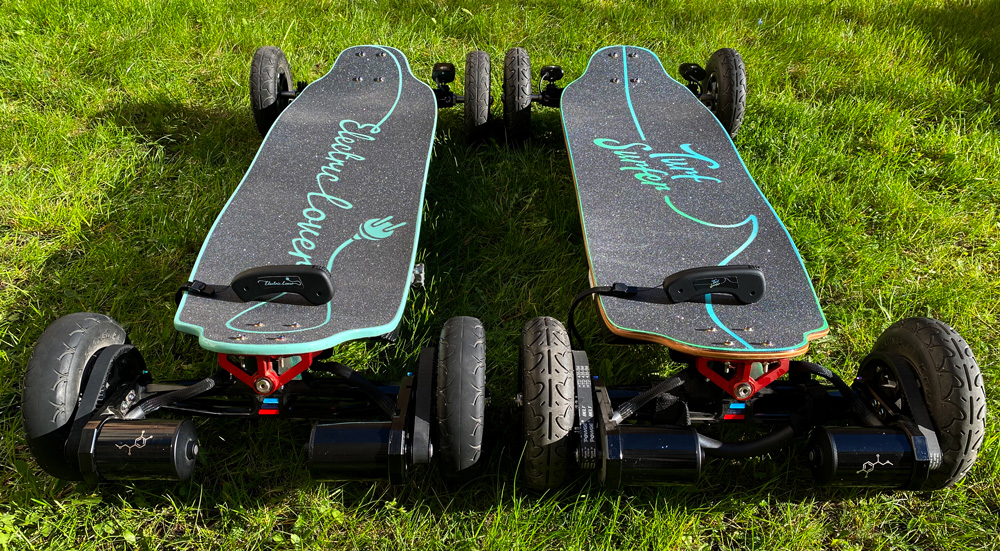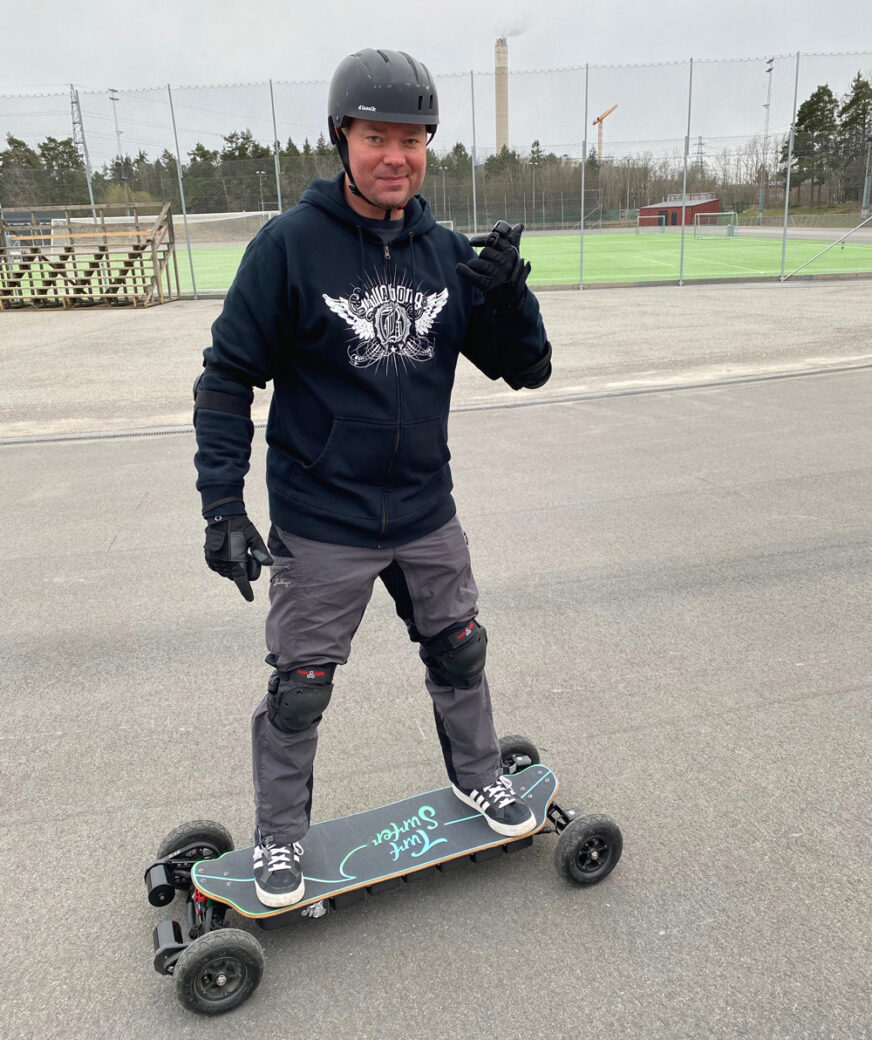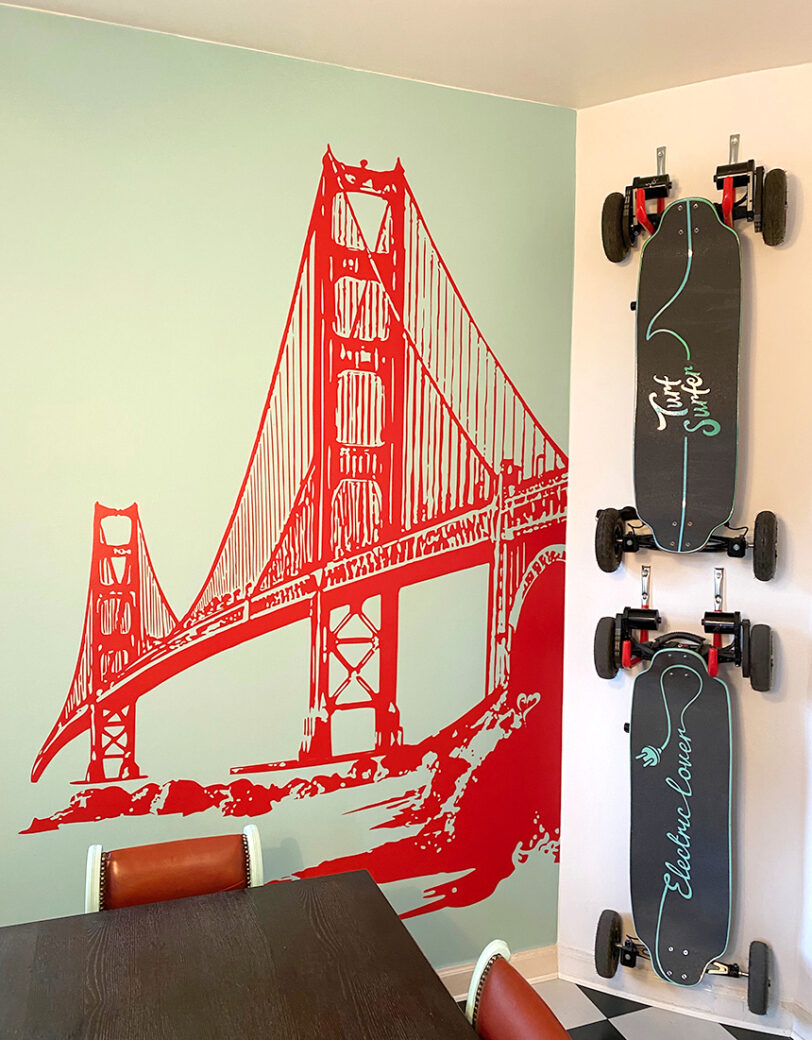 It is important that your board matches the interior! 😉 To save space, we mounted the boards on the wall with these rubber hooks that worked perfectly! The Golden Gate bridge in cut-out self-adhesive vinyl comes from Monroe Design's webshop. It's a giant red sticker on a turquoise wall. Surfy, surfy! Hang loose, frieeeens!